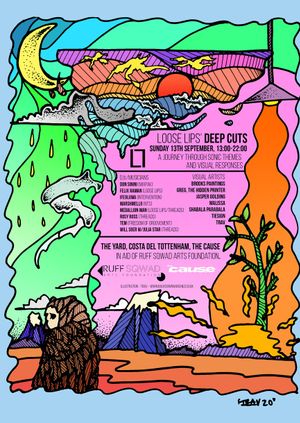 Loose Lips' Deep Cuts In The Yard at Costa Del Tottenham Southside
13th Sep 2020 1pm - 10pm
Add to Calendar
2020-09-13 13:00:00
2020-09-13 22:00:00
Europe/London
Loose Lips' Deep Cuts In The Yard at Costa Del Tottenham Southside
Our first in-person LL event since the start of lockdown!! So excited to be back Expect explorative sets from an amazing variety of DJs and vocalists with their own indistinguishable vibe. Each set will take on a particular theme, a theme that will be reflected live by a visual artist, creating that set's cover art on the spot.All sets will go out live on The Cause's native Threads radio and be uploaded for re-listening, so don't worry if Shazam lets you down! All the profits from the event - and from the artworks' sale - will go towards Ruff Sqwad Arts Foundation, a charity that helps young people discover their own potential in creative careers and life, using music sessions and partnerships to aid expression - https://www.ruffsqwadarts.org/about. This follows on from our recent 2-volume compilation album which was released in aid of them as well - https://looselips123.bandcamp.com!—LINE-UP:Our headliner is an essential cult figure - and definitely not an EDM producer - MarshmeLLo. The House & Soul aficionado and NTS radio resident whose 'Midnight Marauders' show was the first to be broadcast on the station, we knew she had to play at the first socially distanced Loose Lips event, after reflecting on the sheer hypnosis she pulled off at a Josey Rebelle-curated Pickle Factory night last year.Her set's theme will be "Midnight Marauders of the Future".Closing out the day will be Don Sinini, a DJ, producer and singer whose unique take on Dancehall balances London charisma and melodic warmth, though his tastes stretch far and wide. (We had the honour of giving him his first official interview back in 2018, check it out; https://bit.ly/2QpQ7wb).Theme: "Waves"Presenting a very different but similarly breezy sound will be Rosy Ross, a senior producer and resident DJ at Threads radio, whose shows consistently serve a unique combination of wily grooves and faded glam, inspired by her seaside town youth.Theme: "En Vacences"Another totally different but toootally rad selector is Ifeoluwa, whose last Corsica Studios set displayed the DJ's characteristic high energy fire, ranging from Footwork to Britney Spears. Since Ifeoluwa's passions stretch across the bpm range, (as demonstrated by their contribution to the last Deep Cuts article alongside Don Sinini: https://bit.ly/34xI3ld) they will be packing a totally different breed of banger.Theme: "Sunset"Then there is Tem, a rising DJ, promoter and 1020 Radio host whose show 'Freedom of Groovement' takes a 2 hour dive into a different country each month, with his Bristol-based night of the same name highlighting under-appreciated international DJs and bangers. You can only say this so many times in one event description, but this guy has a s e r i o u s collection of sonic gems.Theme: "No Borders"It wouldn't be a Loose Lips event with appearance from our resident DJ roster, melting minds everywhere from Manchester to Macedonia since 2014. LL founder and bossman himself Medallion Man will be opening proceedings with a swirl of psychedelia - theme: "Enter The Trip" - before Felix Raman guides us into the eye of the storm with his "Dystopia Dub" set.And last but not least (actually neither, he'll be playing in the middle of the day) is Will Soer, Loose Lips editor and proud mama of Deep Cuts. Soer will be exploring the transcendent vibes from his Threads Radio show 'Out Of Body Pop', with help from next-gen vocal badass and Deep Cuts writer (who chose this month's Deep Cuts article title: DEAD INSIDE BUT IT'S OK).Theme: "Out Of Body Landscapes"—Artwork by the majestic Trav as ever, check his website here: https://bit.ly/2G0aPkr.BOOKING INFOIn line with current COVID rules all bookings will be designated with a set table/area for a party of 8 guests.Your ticket includes entry for the number of people on your table, a welcome drink, your reserved table, DJ and access to our various bars and food traders. Please aim to arrive by the beginning of your booked session.Your welcome drink is valid if you arrive by the specified time of your ticket.We will hold your table for a maximum of 30 minutes. If you are running late, please notify us via bookings@costadeltottenham.co.uk and we will do our best to accommodate you. If we do not hear from you within 30 minutes we may sell your space.Please try and work with us on this. Whilst we would like to be as flexible as possible, we are working with a limited capacity and rely on the bar sales from tables we have to stay a float. Due to high staffing costs, no-shows are extremely costly for an operation like this.Walk ups available subject to capacity without beer sliders. If you wish to book without sliders for families, or if you have people within your group who do not drink please email us and we will accommodate. https://costa-del-tottenham.eventcube.io/events/26071/loose-lips-deep-cuts-in-the-yard-at-costa-del-tottenham-southside
Ashley Road, London, N17 9LZ
Event Details
Our first in-person LL event since the start of lockdown!! So excited to be back
Expect explorative sets from an amazing variety of DJs and vocalists with their own indistinguishable vibe. Each set will take on a particular theme, a theme that will be reflected live by a visual artist, creating that set's cover art on the spot.
All sets will go out live on The Cause's native Threads radio and be uploaded for re-listening, so don't worry if Shazam lets you down! All the profits from the event - and from the artworks' sale - will go towards Ruff Sqwad Arts Foundation, a charity that helps young people discover their own potential in creative careers and life, using music sessions and partnerships to aid expression - https://www.ruffsqwadarts.org/about. This follows on from our recent 2-volume compilation album which was released in aid of them as well - https://looselips123.bandcamp.com!
—
LINE-UP:
Our headliner is an essential cult figure - and definitely not an EDM producer - MarshmeLLo. The House & Soul aficionado and NTS radio resident whose 'Midnight Marauders' show was the first to be broadcast on the station, we knew she had to play at the first socially distanced Loose Lips event, after reflecting on the sheer hypnosis she pulled off at a Josey Rebelle-curated Pickle Factory night last year.
Her set's theme will be "Midnight Marauders of the Future".
Closing out the day will be Don Sinini, a DJ, producer and singer whose unique take on Dancehall balances London charisma and melodic warmth, though his tastes stretch far and wide. (We had the honour of giving him his first official interview back in 2018, check it out; https://bit.ly/2QpQ7wb).
Theme: "Waves"
Presenting a very different but similarly breezy sound will be Rosy Ross, a senior producer and resident DJ at Threads radio, whose shows consistently serve a unique combination of wily grooves and faded glam, inspired by her seaside town youth.
Theme: "En Vacences"
Another totally different but toootally rad selector is Ifeoluwa, whose last Corsica Studios set displayed the DJ's characteristic high energy fire, ranging from Footwork to Britney Spears. Since Ifeoluwa's passions stretch across the bpm range, (as demonstrated by their contribution to the last Deep Cuts article alongside Don Sinini: https://bit.ly/34xI3ld) they will be packing a totally different breed of banger.
Theme: "Sunset"
Then there is Tem, a rising DJ, promoter and 1020 Radio host whose show 'Freedom of Groovement' takes a 2 hour dive into a different country each month, with his Bristol-based night of the same name highlighting under-appreciated international DJs and bangers. You can only say this so many times in one event description, but this guy has a s e r i o u s collection of sonic gems.
Theme: "No Borders"
It wouldn't be a Loose Lips event with appearance from our resident DJ roster, melting minds everywhere from Manchester to Macedonia since 2014. LL founder and bossman himself Medallion Man will be opening proceedings with a swirl of psychedelia - theme: "Enter The Trip" - before Felix Raman guides us into the eye of the storm with his "Dystopia Dub" set.
And last but not least (actually neither, he'll be playing in the middle of the day) is Will Soer, Loose Lips editor and proud mama of Deep Cuts. Soer will be exploring the transcendent vibes from his Threads Radio show 'Out Of Body Pop', with help from next-gen vocal badass and Deep Cuts writer (who chose this month's Deep Cuts article title: DEAD INSIDE BUT IT'S OK).
Theme: "Out Of Body Landscapes"
—
Artwork by the majestic Trav as ever, check his website here: https://bit.ly/2G0aPkr.
BOOKING INFO
In line with current COVID rules all bookings will be designated with a set table/area for a party of 8 guests.
Your ticket includes entry for the number of people on your table, a welcome drink, your reserved table, DJ and access to our various bars and food traders. Please aim to arrive by the beginning of your booked session.
Your welcome drink is valid if you arrive by the specified time of your ticket.
We will hold your table for a maximum of 30 minutes. If you are running late, please notify us via bookings@costadeltottenham.co.uk and we will do our best to accommodate you. If we do not hear from you within 30 minutes we may sell your space.
Please try and work with us on this. Whilst we would like to be as flexible as possible, we are working with a limited capacity and rely on the bar sales from tables we have to stay a float. Due to high staffing costs, no-shows are extremely costly for an operation like this.
Walk ups available subject to capacity without beer sliders. If you wish to book without sliders for families, or if you have people within your group who do not drink please email us and we will accommodate.