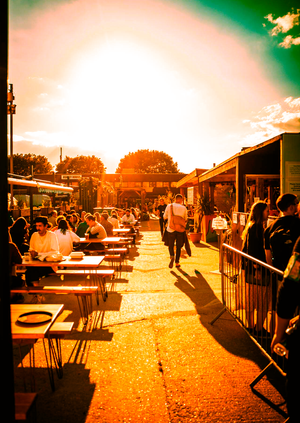 DJs in the Greenhouse
22nd May 2021 5:30pm - 11pm
Add to Calendar
Event Details
--

After nearly a year of despair, on and off lockdowns, scotch eggs and generally not knowing what the hell is happening, we are now on the road to recovery and can announce the re-opening of Costaspecial shows!
Following todays speech, outdoor al fresco boozing is set to return from April, and that means last years hottest socially distanced summer holiday resort is back with a twist for Tier 2021!
BOOKING INFO
In line with current COVID rules all bookings will be designated with a set table/area of up to 6 people. The cover for this is per head for your full table assuming your table is full capacity and includes entry, a welcome cocktail, your reserved table, DJ and table service from our bars and food traders. All food and drinks must be ordered from your table.   There is no service at any counter.
One of your group must check in using the NHS app and QR code on arrival.
You must wear a face mask, unless seated at your table whilst eating and drinking.
No one should mix in a group of greater that 6.
You must not interact with anyone outside the group you are with throughout your stay. Even if you see other people you know.
Groups of 6 from the same household and support bubble can be seated inside or outside & can mix with no social distancing.
Groups of 6 from the multiple households can mix with social distancing and be seated outside only.
Please aim to arrive by the beginning of your booked session. Your welcome drink is valid if you arrive by the specified time of your ticket. We will hold your table for a maximum of 30 minutes. 

If you are running late, please notify us via bookings@costadeltottenham.co.uk and we will do our best to accommodate you. If we do not hear from you within 30 minutes we may sell your space. 
Please try and work with us on this. Whilst we would like to be as flexible as possible, we are working with a limited capacity and rely on the bar sales from tables we have to stay afloat. 

Due to high staffing costs, no-shows are extremely costly for an operation like this. Walk ups available subject to capacity without welcome drinks. If you wish to book without welcome drinks or for families, or if you have people within your group who do not drink please email us and we will accommodate.
FURTHER ADVICE
Please do not attend the event if you, or any of your household or social bubble are feeling unwell or showing symptoms of Covid-19.
Please remember to wear your face masks when travelling to the event, and when you are queuing at the venue.
Please be aware of others and conform with our social distancing guidelines when at the venue.
When booking a table, please provide the correct contact information for the lead booker, in case we need to track and trace.
Tickets are non refundable except in any instance where a government or local restriction takes place which does not permit the event to go ahead.