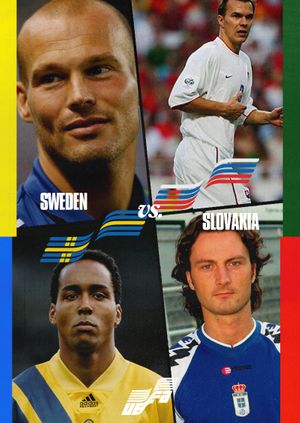 Euros Warehouse: Sweden vs Slovakia
18th Jun 2021 1pm - 4:30pm
Add to Calendar
2021-06-18 13:00:00
2021-06-18 16:30:00
Europe/London
Euros Warehouse: Sweden vs Slovakia
Last year amidst a global pandemic our nightclub The Cause flipped itself once again and relaunched as a socially distanced food, booze and music concept Costa Del Tottenham, to become the hottest trip in town. Now, the project expands once more and we're letting our acid house sensibilities live on the Euros. Costa Del Tottenham presents: Euros Warehouse - GIANT SCREENS- BEER HALL - STREET FOOD- BOOZE - SUN TERRACE - SPECIAL EVENTS + LOADS MORE TO BE REVEALEDThis summer, Costa Del Tottenham takes over a brand new 5000 square foot space, just metres away from the main island, and whilst dancing is off the table still and with one of the world's most anticipated football tournaments on the horizon, we thought we can't let this space go to waste. We'll be transforming the warehouse into a giant beer hall (beer hall part 2 if you will) with a full AV production, cold pints from Five Points Brewery, street food and some touches that nod to our rave roots. We'll be showing every single game, bookable in tables of 6, at the bargain price of £10 a head. We'll have some other surprises up our sleeve which will be revealed soon but expect some special extended sessions with some extra fun and games around some of the key matches. Whether it's one of our home games, or Austria vs Macedonia, after the year we've had you may as well take every opportunity to experience the atmosphere of something other than your living room with 300 other football aficionados. --BOOKING INFOIn line with current COVID rules all bookings will be designated with a set table/area of up to 6 people. All food and drinks must be ordered from your table. There is no service at any counter.One of your group must check in using the NHS app and QR code on arrival.You must wear a face mask, unless seated at your table whilst eating and drinking.No one should mix in a group of greater than 6.You must not interact with anyone outside the group you are with throughout your stay. Even if you see other people you know.Groups of 6 from the same household and support bubble can be seated inside or outside & can mix with no social distancing.Groups of 6 from the multiple households can mix with social distancing and be seated outside only.Please aim to arrive by the beginning of your booked session. Your welcome drink is valid if you arrive by the specified time of your ticket. We will hold your table for a maximum of 30 minutes. If you are running late, please notify us via bookings@costadeltottenham.co.uk and we will do our best to accommodate you. If we do not hear from you within 30 minutes we may sell your space. Please try and work with us on this. Whilst we would like to be as flexible as possible, we are working with a limited capacity and rely on the bar sales from tables we have to stay afloat. Due to high staffing costs, no-shows are extremely costly for an operation like this. Walk ups available subject to capacity without welcome drinks. If you wish to book without welcome drinks or for families, or if you have people within your group who do not drink please email us and we will accommodate.FURTHER ADVICEPlease do not attend the event if you, or any of your household or social bubble are feeling unwell or showing symptoms of Covid-19.Please remember to wear your face masks when travelling to the event, and when you are queuing at the venue.Please be aware of others and conform with our social distancing guidelines when at the venue.When booking a table, please provide the correct contact information for the lead booker, in case we need to track and trace.Tickets are non refundable except in any instance where a government or local restriction takes place which does not permit the event to go ahead.Please note all events are subject to license, covid restrictions and current government guidelines. Should the event not be able to go ahead due to any of the above reasons tickets will be transferred where possible or refunded.  https://costa-del-tottenham.eventcube.io/events/31598/euros-warehouse-sweden-vs-slovakia
London, N17 9LZ
Event Details
Last year amidst a global pandemic our nightclub The Cause flipped itself once again and relaunched as a socially distanced food, booze and music concept Costa Del Tottenham, to become the hottest trip in town. Now, the project expands once more and we're letting our acid house sensibilities live on the Euros.

Costa Del Tottenham presents: Euros Warehouse

- GIANT SCREENS
- BEER HALL
- STREET FOOD
- BOOZE
- SUN TERRACE
- SPECIAL EVENTS
+ LOADS MORE TO BE REVEALED

This summer, Costa Del Tottenham takes over a brand new 5000 square foot space, just metres away from the main island, and whilst dancing is off the table still and with one of the world's most anticipated football tournaments on the horizon, we thought we can't let this space go to waste.

We'll be transforming the warehouse into a giant beer hall (beer hall part 2 if you will) with a full AV production, cold pints from Five Points Brewery, street food and some touches that nod to our rave roots.

We'll be showing every single game, bookable in tables of 6, at the bargain price of £10 a head.

We'll have some other surprises up our sleeve which will be revealed soon but expect some special extended sessions with some extra fun and games around some of the key matches.

Whether it's one of our home games, or Austria vs Macedonia, after the year we've had you may as well take every opportunity to experience the atmosphere of something other than your living room with 300 other football aficionados.
--
BOOKING INFO
In line with current COVID rules all bookings will be designated with a set table/area of up to 6 people. All food and drinks must be ordered from your table. There is no service at any counter.
One of your group must check in using the NHS app and QR code on arrival.
You must wear a face mask, unless seated at your table whilst eating and drinking.
No one should mix in a group of greater than 6.
You must not interact with anyone outside the group you are with throughout your stay. Even if you see other people you know.
Groups of 6 from the same household and support bubble can be seated inside or outside & can mix with no social distancing.
Groups of 6 from the multiple households can mix with social distancing and be seated outside only.
Please aim to arrive by the beginning of your booked session. Your welcome drink is valid if you arrive by the specified time of your ticket. We will hold your table for a maximum of 30 minutes.

If you are running late, please notify us via bookings@costadeltottenham.co.uk and we will do our best to accommodate you. If we do not hear from you within 30 minutes we may sell your space.
Please try and work with us on this. Whilst we would like to be as flexible as possible, we are working with a limited capacity and rely on the bar sales from tables we have to stay afloat.

Due to high staffing costs, no-shows are extremely costly for an operation like this. Walk ups available subject to capacity without welcome drinks. If you wish to book without welcome drinks or for families, or if you have people within your group who do not drink please email us and we will accommodate.
FURTHER ADVICE
Please do not attend the event if you, or any of your household or social bubble are feeling unwell or showing symptoms of Covid-19.
Please remember to wear your face masks when travelling to the event, and when you are queuing at the venue.
Please be aware of others and conform with our social distancing guidelines when at the venue.
When booking a table, please provide the correct contact information for the lead booker, in case we need to track and trace.
Tickets are non refundable except in any instance where a government or local restriction takes place which does not permit the event to go ahead.

Please note all events are subject to license, covid restrictions and current government guidelines. Should the event not be able to go ahead due to any of the above reasons tickets will be transferred where possible or refunded.