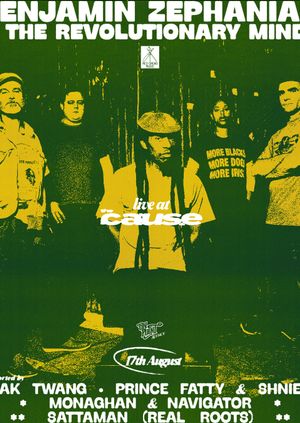 Benjamin Zephaniah & The Revolutionary Minds w/ Blak Twang, Prince Fatty & Shiniece + Guests
17th Aug 2021 7pm - 11:45pm
Add to Calendar
2021-08-17 19:00:00
2021-08-17 23:45:00
Europe/London
Benjamin Zephaniah & The Revolutionary Minds w/ Blak Twang, Prince Fatty & Shiniece + Guests
The Cause is excited to announce the exclusive London date on the 2021 tour of celebrated musician, writer, poet, and political activist Benjamin Zephaniah and the Revolutionary Minds. His poetry, books, and plays have captivated hearts and minds, fuelling imaginations and winning him a legion of fans all over the world. Though his music is lesser known than his written work it is no less fervent. Created alongside his accomplished producer and collaborator The Sea, Revolutionary Minds album is a deep selection of dub-reggae juggernauts, the essence, and style of which fully reinforce the messages projected through Zephaniah's powerful lyrics.Supporting Benjamin, UK Hip-Hop royalty Blak Twang, Dub master Prince Fatty with Shniece on vocals alongside Monaghan with sound system veteran Navigator & Real Roots Sound system. https://costa-del-tottenham.eventcube.io/events/32373/benjamin-zephaniah-the-revolutionary-minds-w-blak-twang-prince-fatty-shiniece-guests
Ashley House Depot, Ashley Rd, London, N17 9LZ
Event Details
The Cause is excited to announce the exclusive London date on the 2021 tour of celebrated musician, writer, poet, and political activist Benjamin Zephaniah and the Revolutionary Minds.
His poetry, books, and plays have captivated hearts and minds, fuelling imaginations and winning him a legion of fans all over the world. Though his music is lesser known than his written work it is no less fervent. Created alongside his accomplished producer and collaborator The Sea, Revolutionary Minds album is a deep selection of dub-reggae juggernauts, the essence, and style of which fully reinforce the messages projected through Zephaniah's powerful lyrics.
Supporting Benjamin, UK Hip-Hop royalty Blak Twang, Dub master Prince Fatty with Shniece on vocals alongside Monaghan with sound system veteran Navigator & Real Roots Sound system.